When we are far away from the people we love, we can conjure them in the recipes we cook. From 200km away, separated by bushfires, road closures then lockdowns, my mum was sending herself to me as a comforting bowl of her famous Croatian chicken and vegetable soup – juha.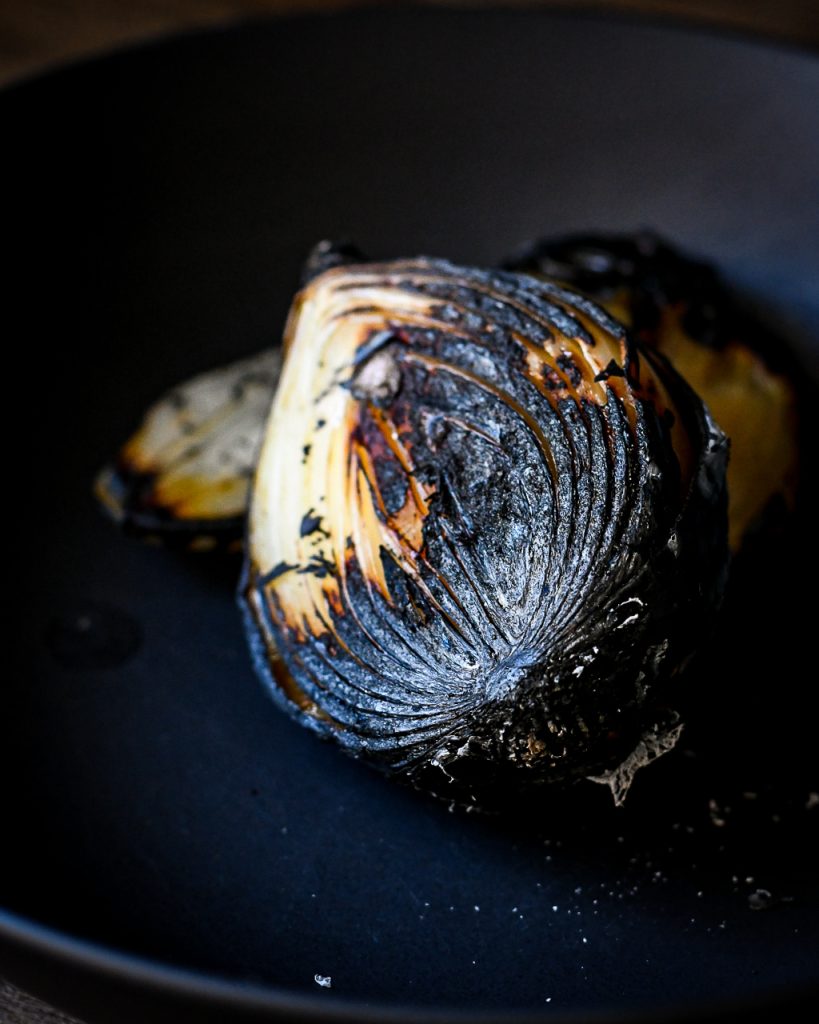 Juha
Juha is a sacred part of the Croatian family meal. It binds generations, eaten at all stages of life.
It's a first meal for tiny hands, that inevitably ditch their spoon and slurp straight from the bowl. Or, it can be served as a strained broth, the last nourishing food that is eaten in old age. It's there when you're celebrating a wedding or recovering from illness. It's carefully transported from location to location as leftovers that are treasured and reheated the next day. Liquid gold. And if you're making it, you better burn your onion!
"Jesi li izgorila malo luk?" Baba asks down the phone line.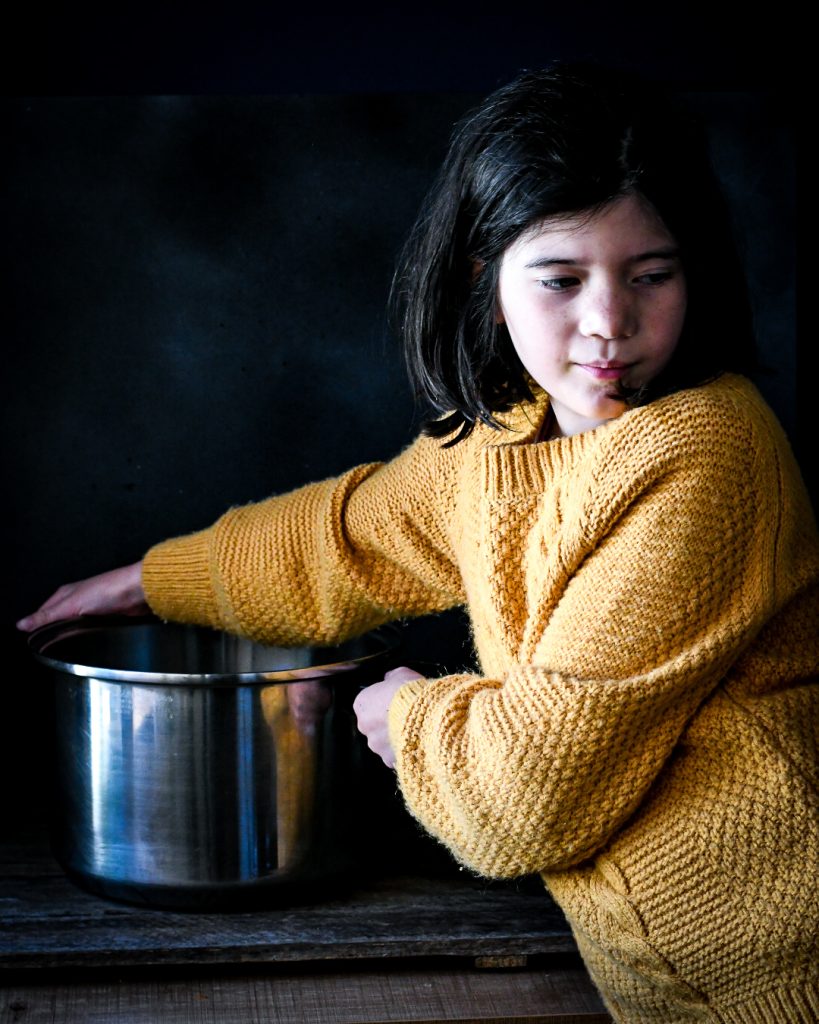 The Juggle
2020 was unprecedented but in my little cosmos, 2019 sure did test us as well.Of all the things I wasn't expecting to see in this lifetime, my hometown engulfed in apocalyptic flames and my daughter in the back of an ambulance were among them. I am eternally, humbly and exorbitantly grateful that all of these events left us safe and in tact as a family… for many it didn't. But by the time we hit lockdown in March 2020, I was feeling a bit like that burned onion.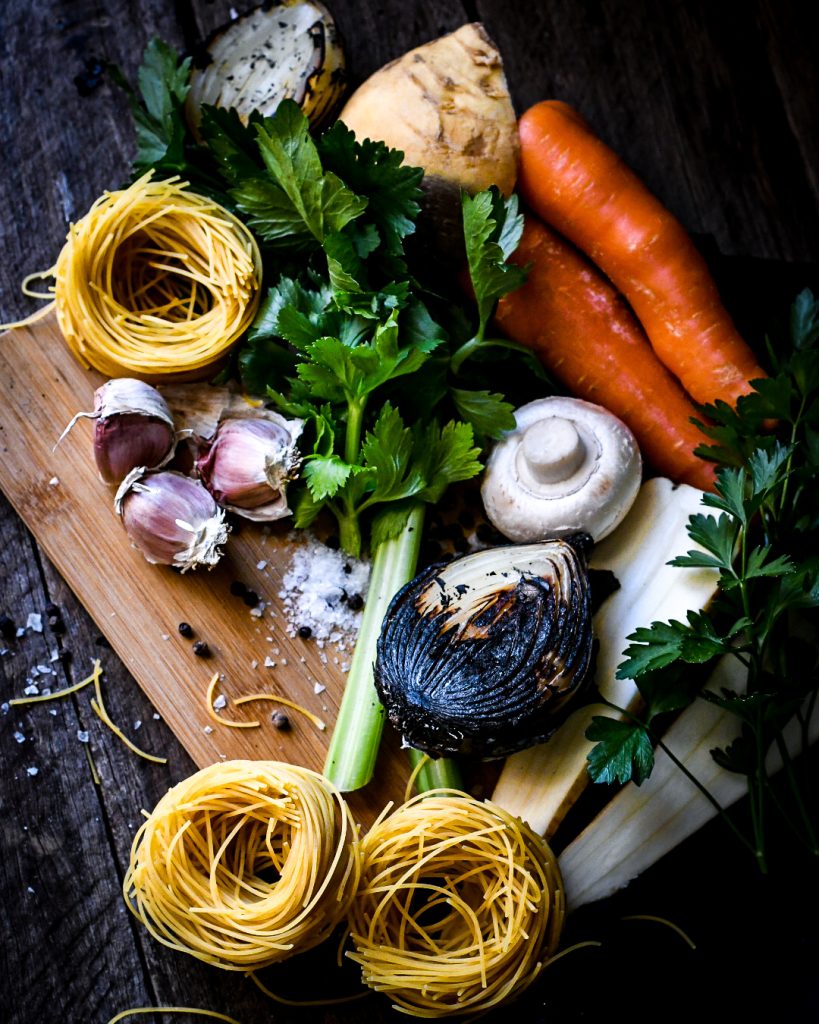 I hesitate to say that it's a female thing – we all feel overwhelmed – but if there's one thing these experiences taught me, it's that as a mother, a wife, a daughter, a small business owner and a human, I am juggling a lot more than I realise. And I'm not alone. #thejuggleisreal
You know how they have those apps for pregnant women saying 'your baby is now as big as a pomegranate'? They should have one to help us take stock of exactly how much we all have on our plate. Some days mine would probably say 'an entire fruit salad'.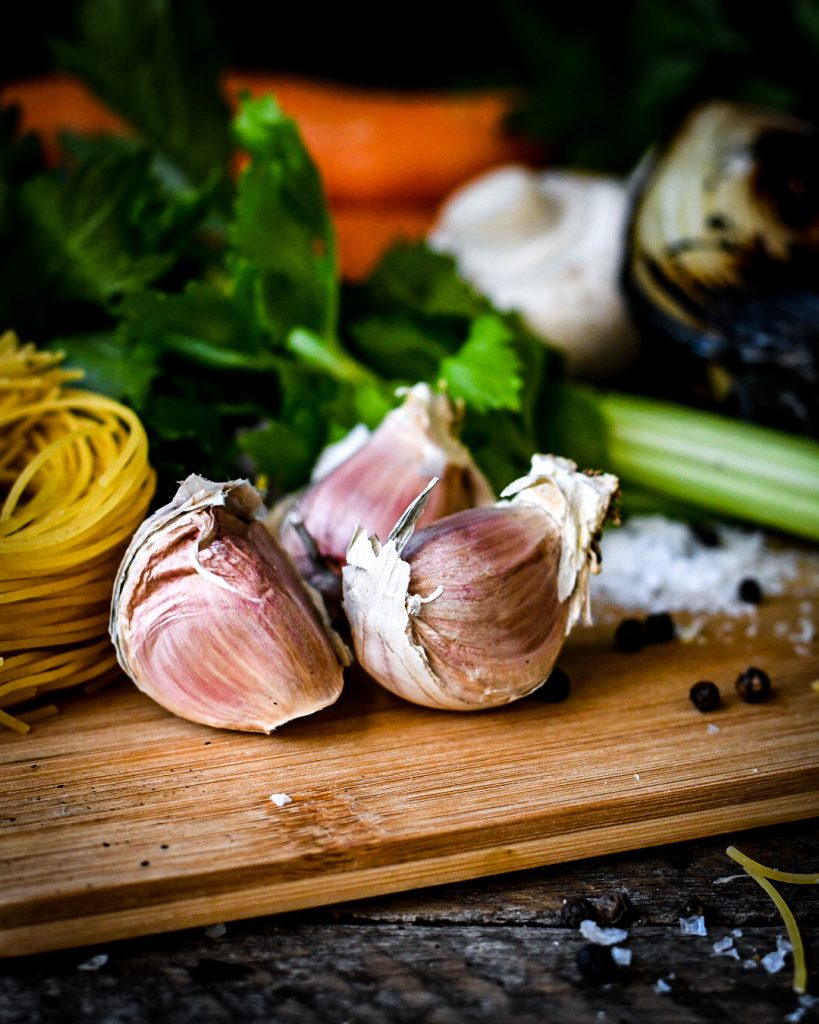 So into lockdown we went and everything around us came to a screeching halt. The silence was deafening. Did you realise just how much you needed other humans on a daily basis until then? Suddenly we were running a marathon with almost no cheer squad.
Though my precious husband and daughters were the beams of light in every isolating day, when you're feeling low, you really want your mum. A phone call is fine but that 200km has never felt as far as when there was a barricade right in the middle of it.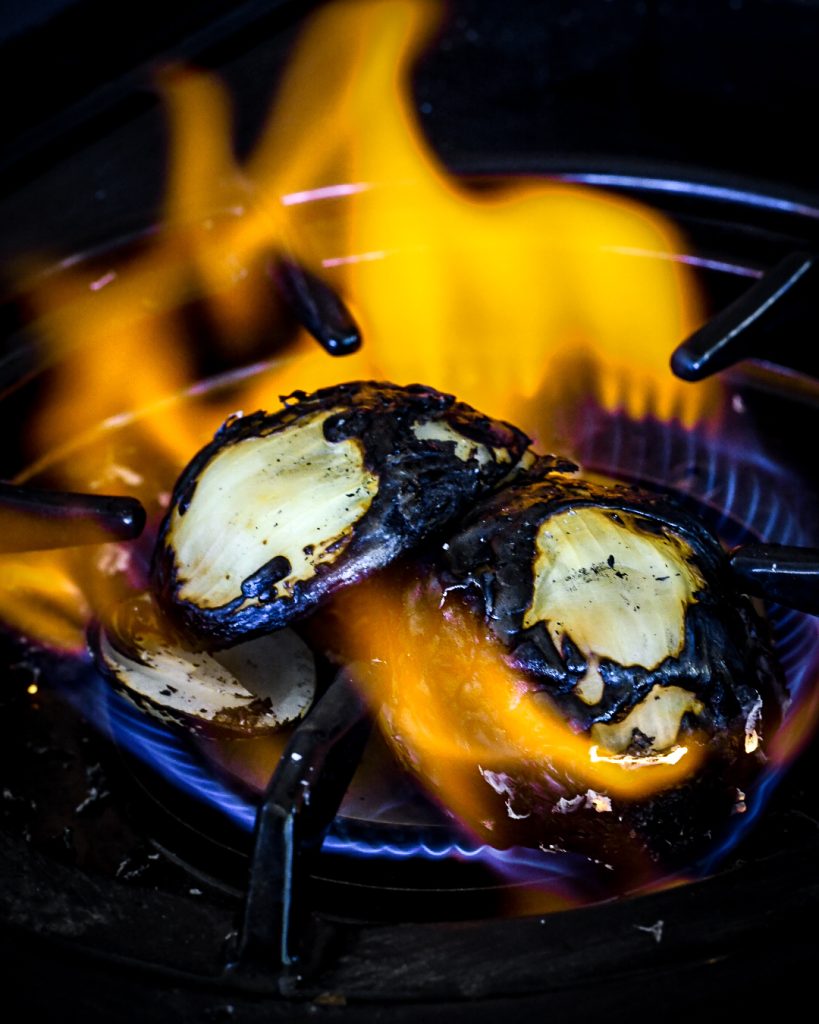 Baba (we all call her 'grandma' in Croatian), being the mother that she is, instinctively began every phone conversation with "Have you eaten?" As in many cultures, it's our way of saying "How are you? Are you ok?" And when I replied that I hadn't had much of an appetite, her motherly instincts went into overdrive.
"Put a pot of soup on." Croatian mums don't make suggestions when it comes to food: they give orders.
"But don't forget to burn the onion or it won't be any good."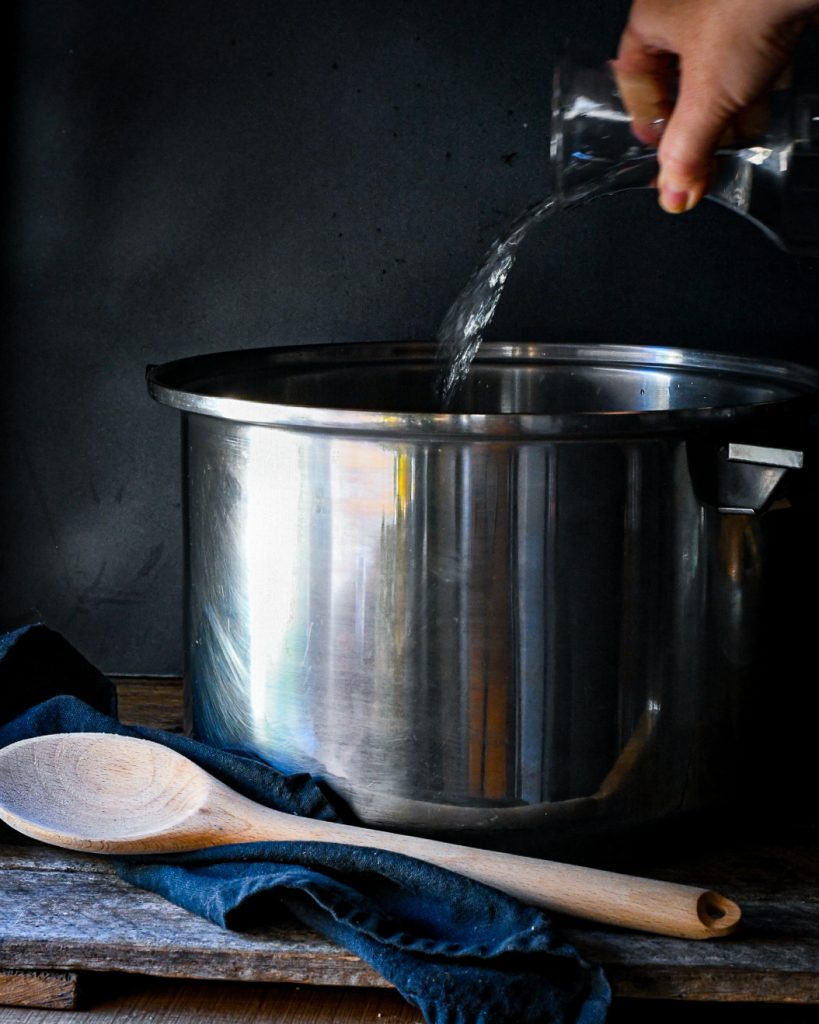 Shared experience
This forced separation from my parents got me thinking about the immense and permanent separation felt by migrant women like my mother upon leaving their homes. Many of them had barely left their town before setting off halfway around the world.
Mum spent her first twenty-five years in a tiny Croatian village, high in the mountains. Born during World War II, her childhood was wracked with poverty, political upheaval and suffering. Doctors visits were almost unheard of, Government officials took what little they had, shops were far away and quickly sold out of anything, if you could have afforded it in the first place.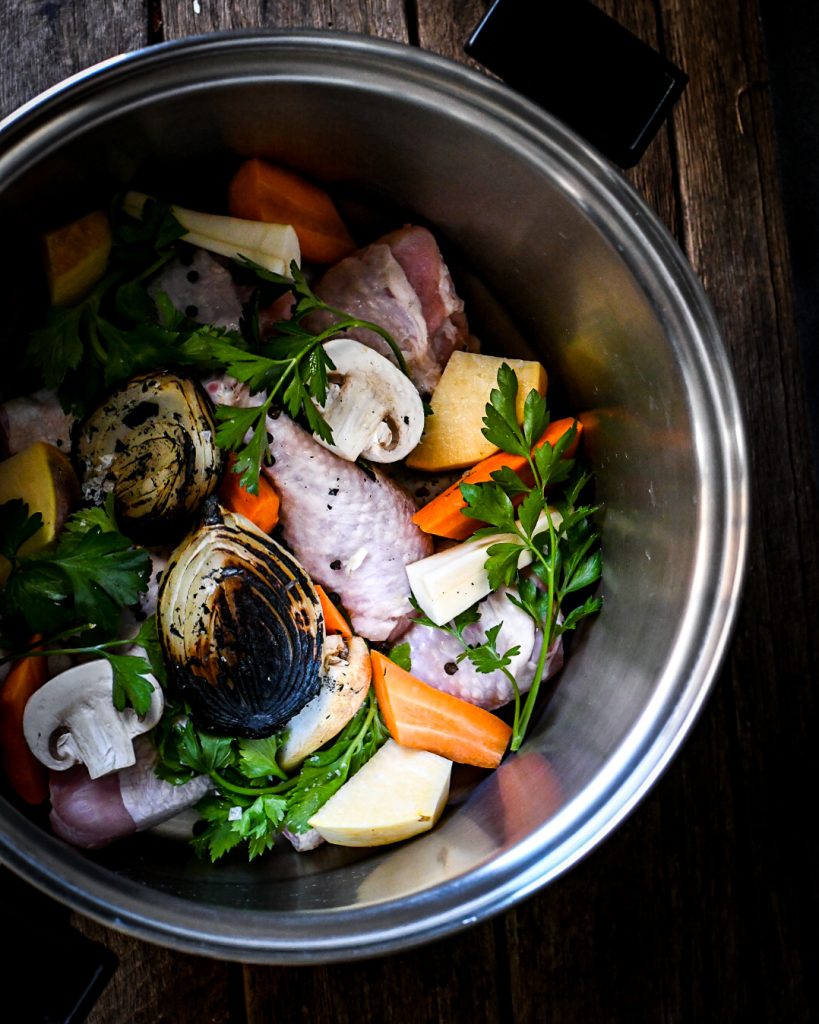 School was considered a waste of time for a young girl so mum tended wealthy families' sheep from about the age of six. "Some days me and my cousin would walk for hours with those sheep, from dawn to dusk. Up steep hills, as far as our little legs would take us and then a little bit further… all on an empty stomach. When we arrived back at the end of the day, the owner would offer us a couple of boiled eggs and that was like Christmas."
My eyes well up as I type because I'm looking at my two girls, similar in age, with their 'holiday cereal' treats, snuggled up watching cartoons and playing lego on the couch. What a sacrifice my mum made to bring us here.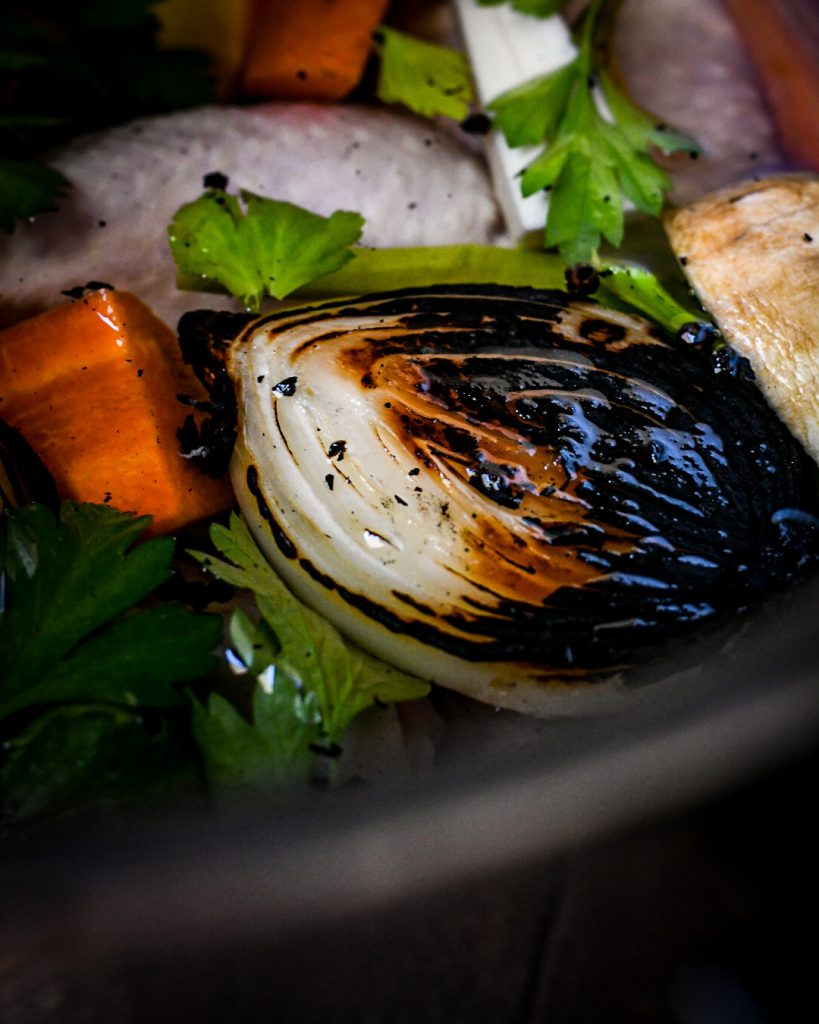 I asked my mum how she bridged the gap in those days when a letter could take months and she was missing everything with her mum: her wedding, the birth of her first child, her first home. "I would make a simple soup and think about how my mum had managed to feed nine of us and two grandparents with barely any ingredients."
When even vegetables and salt are scarce, you know what kind of poverty we're talking about. They couldn't dream of using half a chicken and piles of veggies for mum's now famous chicken noodle soup. "It was pretty much cabbages, potato, water and a little burned onion. Day after day."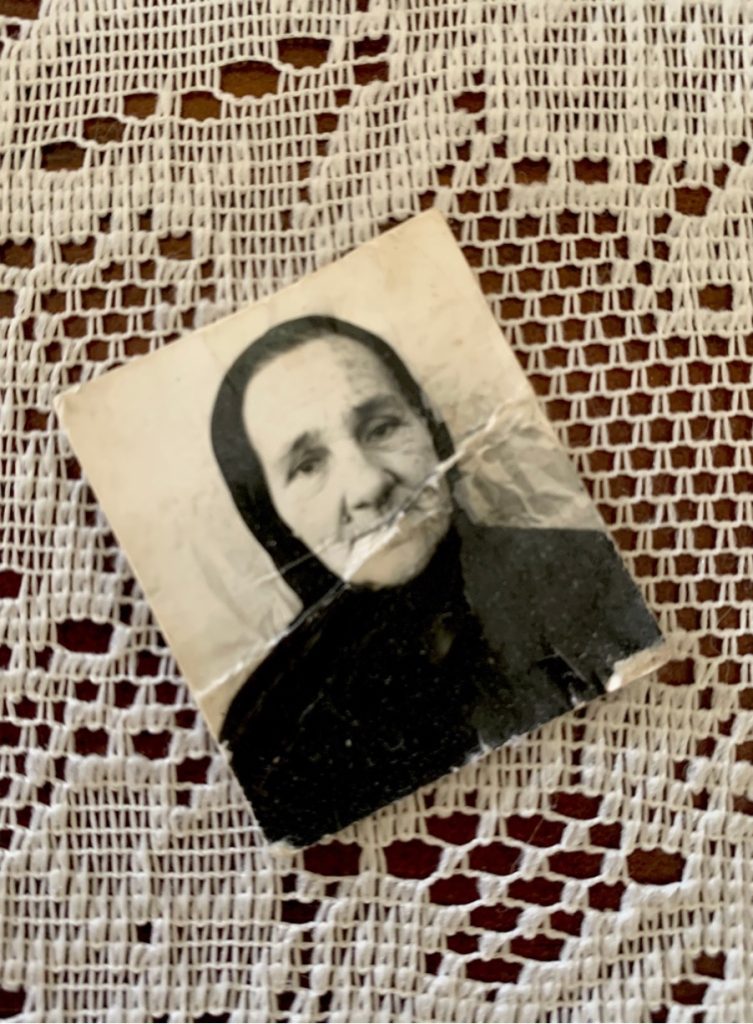 Mum, proudly showing off her golden egg noodles that she makes by hand with eggs from her beloved hens. At 83 she still makes sure that box is always full for whenever the girls come over expecting soup.
But, as many immigrants will attest, my mum says they were happy. She would make that soup in her tiny house in Sydney, back in the early 1970s, and think of the long days gathering hay in the fields with all of her extended family, singing and telling jokes. "Even long after I could afford better, I'd still enjoy that simple cabbage and potato soup. It made me feel at home."
Home. It's where the food is.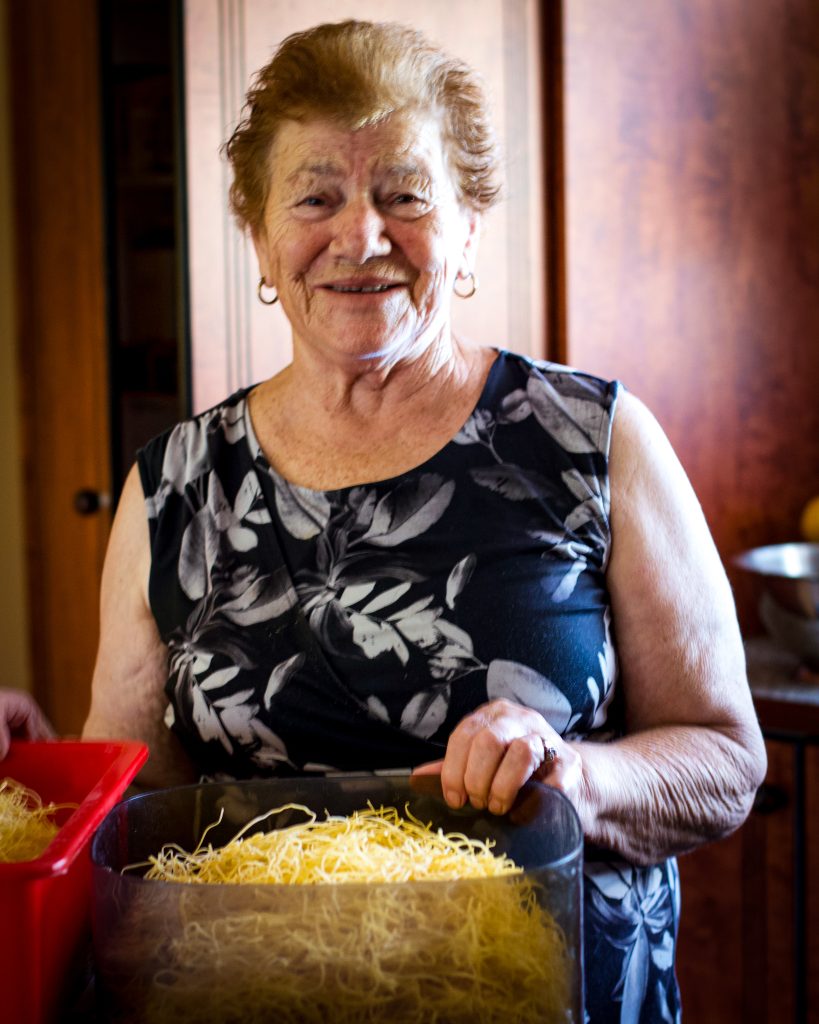 Comfort shopping
So, with soup and family on my mind, I ducked over to my favourite greengrocer, Ziggys Fresh, using up my allocated weekly lockdown shopping trip.
I have worked closely with Ziggys for a couple of years now, photographing zucchinis, developing recipes and generally enjoying being part of a bustiling fruit and veg scene. Being surrounded by so much fresh food is my happy place. We chat about the quality of mandarins, swoon over some new variety of melon or orange and I leave loaded up with veggies (one onion, of course) plus a bit more spring in my previously heavy steps.
When I got home, I pulled out the huge pot mum had given me years ago, and immediately the house felt warmer. It felt less empty. Soon I was burning the onions, chopping carrots, celery, garlic and that one mushroom Baba insists is crucial – all with her on speaker giving 'instructions'. The type that would be useless in a cookbook:"… add enough water and simmer until done."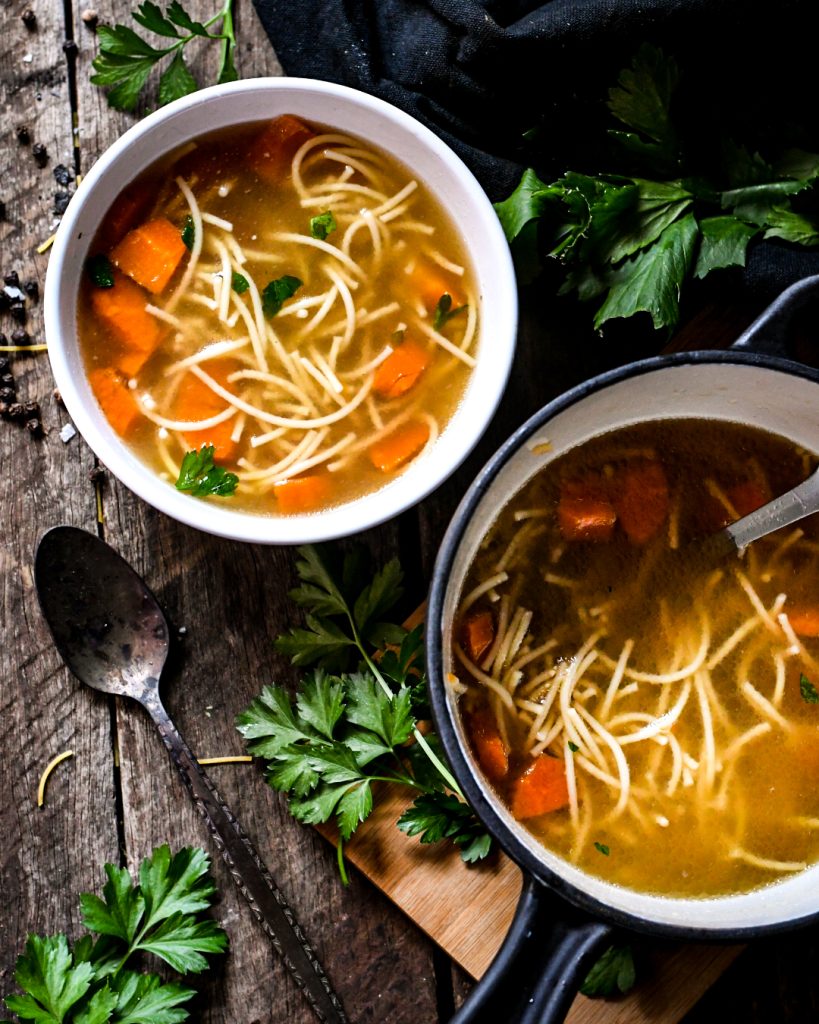 Ingredients
1kg chicken with bones, a whole chicken, drumsticks or wings work well
1 brown onion
2 carrots, peeled and roughly chopped
1 parsnip, peeled and roughly chopped
1 small mushroom, cleaned
1 rib of celery, leaves included, roughly chopped
1 swede or turnip, roughly chopped
3 sprigs parsley
Black peppercorns
1 teaspoon salt
1/2 teaspoon Vegetarian seasoning (optional… unless you're Croatian)
About 200g of Baba's homemade egg noodles (but store bought is fine!)
Approx 1.5L COLD water
Method
BURN YOUR ONION. Chop it in half and, using tongs, hold it over a gas flame, BBQ or in a dry pan until charred.
Into a massive pot, add all the ingredients, including the burned onion.
Cover with COLD water and bring to a boil. Warm water would result in a cloudy soup.
After about 25 minutes, carefully skim the foam that appears off the surface of the soup and discard.
Allow to simmer on low for at least two hours, partially covered. If the water is evaporating too quickly, top up slightly but not too much as this will dilute your soup.
Once the chicken is falling off the bone, it's a good indicator that the soup is ready.
Strain the liquid into a smaller saucepan. Chop the carrot into small pieces and add to the pot, allowing to simmer. Discard the other cooked ingredients such as the celery, mushroom and parsley. You can eat the parsnip and swede but, for some reason, we never add them to the final soup.
Meanwhile – and here's a hot tip – simmer your egg noodles in a separate saucepan of water. This allows some of the starchiness to be removed from the noodles and stops your soup from being cloudy. Five minutes is about enough. Drain.
Add the noodles to the simmering soup and cook until noodles are tender.
Serve immediately and reminisce.
This article was written as part of my on-going work with Ziggys Fresh and as an entry into the 2021 Sydney Markets Fresh Awards.