This post was created in partnership with The Essential Ingredient, Kingston ACT, who kindly provided the inspiration and ingredients for this recipe which appears on their website.
When home becomes your permanent location for weeks on end, we who reside there are drawn with a steady magnetism to the kitchen. In the mornings we stumble in, bleary-eyed and searching for a caffeine hit; throughout the day we graze as if part of some bucolic landscape, always searching for that blade of grass on which to nibble; and by night time the pull comes with a resounding cry of 'what's for dinner?'.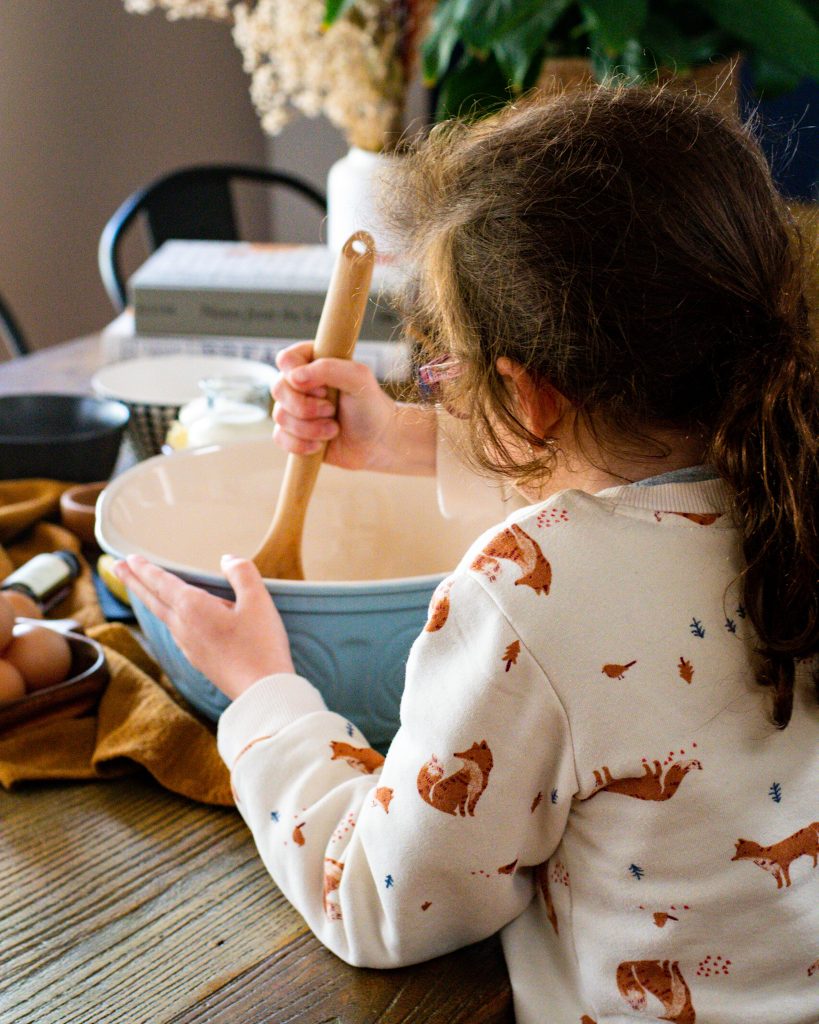 While every bite has its appeal, none quite so much as the sweets we conjure for morning tea or dessert. Tiny hands can be kept busy following step-by-step instructions. Lessons can continue surreptitiously with mathematical concepts couched in grams of sugar, cake tin measurements and baking times – plus they get to lick the spoon!
This Mexican Chocoflan was the perfect dish to make with Miss Seven and, indeed, a fabulous reward for both of us when a hard-day in the home school kitchen was done. (Though I did have to ward off an eager taste-tester at every turn!)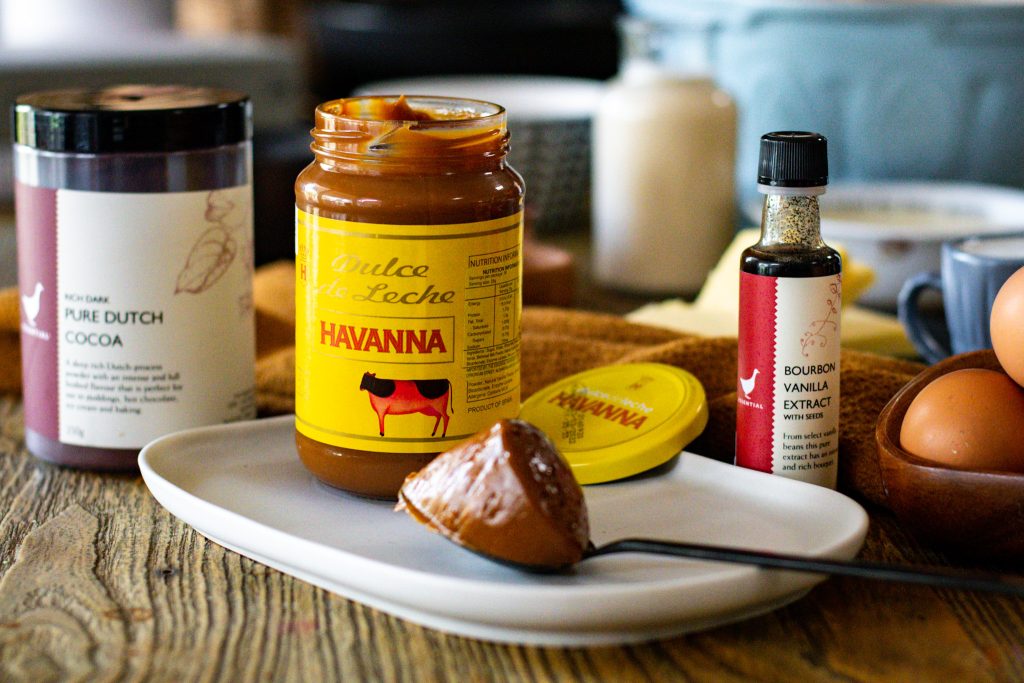 While the beauty of rich, high quality cocoa and the intensity of flavour achieved with a steeped vanilla extract may have been entirely lost on the second-grader, we could all marvel at how this 'impossible cake' somehow manages to flip itself while in the oven. Beginning as three fairly un-photogenic batches of ingredients, it somehow transforms into a trio of neatly defined layers to behold. There's a science lesson in there too, though my chemistry days are bit too far in the rear view mirror, so we remark on the mysteries of life instead and call it 'philosophy'. 
Beyond educational constructs, there's significant appeal in a pillowy soft cake that combines the sweetness of both chocolate and caramel. Nothing unfamiliar here. A spoon slides through it like warm butter. It's the same reason we often have to cajole children to eat broccoli and sprouts but never ice cream.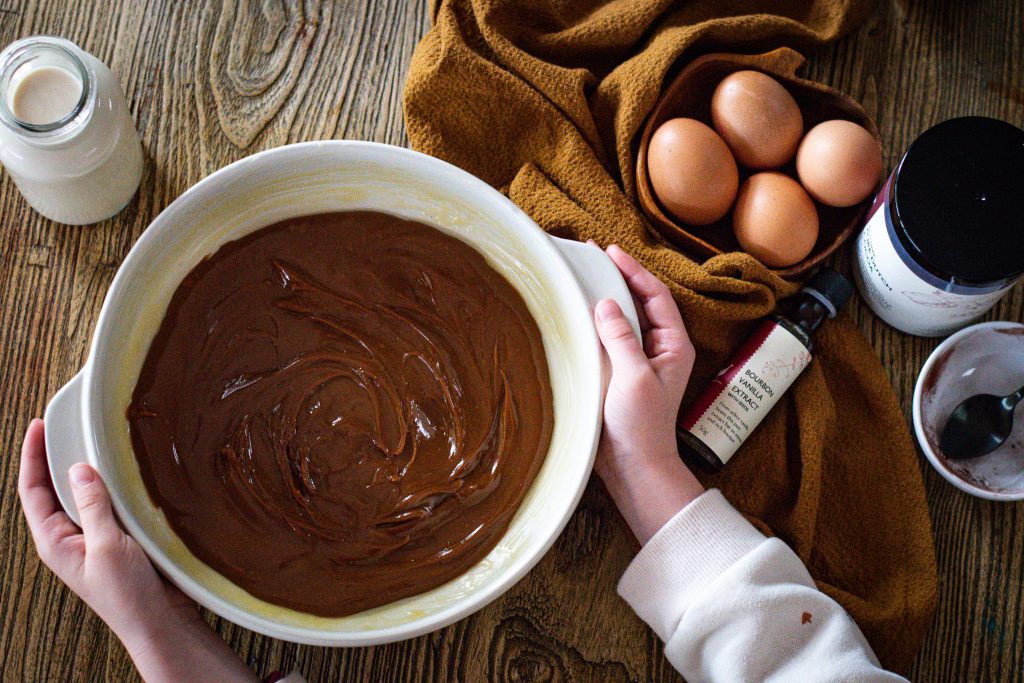 Chief drawcard in the Chocoflan is the sultry sweetness of dulce de leche. Latin American in origin, it is made by caramelising milk. A long and slow process that is thankfully obviated entirely by being able to buy entire jars of it ready made. To my mind, it's an entirely acceptable dessert simply eaten with a spoon straight from the jar, but all the more sophisticated as a decadent and slightly salty topping for the flan.
(Though we most definitely partook in some jar-tasting along the way, after all there must be a reason that the quantity required is fractionally less than the contents of one jar, right?)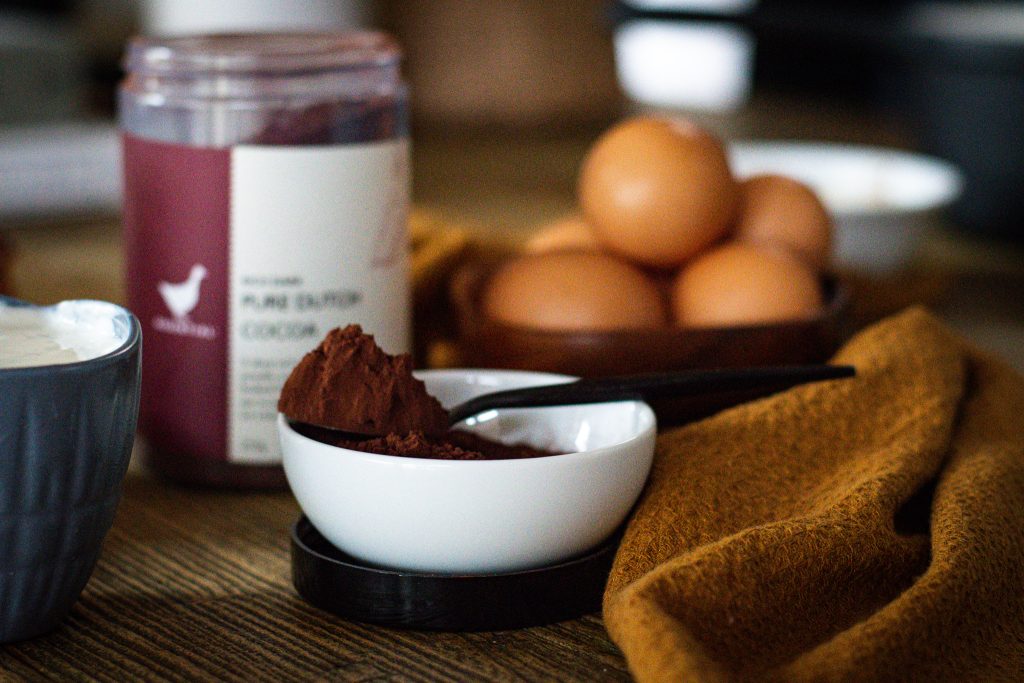 The Mexican Chocoflan is a fun, family recipe that upholds an illusion of masterful baking while, in reality, was mostly prepared by someone who hasn't yet mastered long division. While there are a few steps to follow and a touch of washing up, these valuable life skills were tolerated happily by the student at the thought of having some dessert before dinner. 
Cakey on the bottom, creamy custard in the middle and with a kick of rich caramel on top, it's a dessert that has something for everyone. Especially mums who can relish sneaking a slice late at night when the house is finally quiet.
Pick up all the gourmet ingredients at The Essential Ingredient in Kingston – Pure Dutch Cocoa, Dulce de Leche and Bourbon Vanilla Extract.